Homemade Pumpkin Pie Spice Recipe
Nothing says "holidays," 'family" and "fall" quite like the spicy, aromatic smell and taste of pumpkin pie. Pumpkin spice, also called pumpkin pie spice, is the blend of ground spices commonly used to flavor pumpkin pie and other dishes: cinnamon, ginger, nutmeg and sometimes cloves, allspice and/or cardamom.
Not only does the pumpkin spice blend add classic fall flavor to pumpkin (and other foods), the spices cinnamon, ginger, nutmeg and cloves are all powerful antioxidants and have anti-inflammatory properties, so adding this pumpkin pie spice to foods makes them even better for you than they already are.
And speaking of good-for-you foods, pumpkin is loaded with healthful fiber and vitamins, especially vitamin A. When you go shopping, buy unsweetened, organic pumpkin puree in a BPA-free container, or make your own by roasting an organic pumpkin in your oven.
Making your own homemade pumpkin pie spice mix is super-easy. Buy organic ground spices if at all possible and feel free to tweak this recipe to suit your personal preferences.
Why Make Your Own Pumpkin Pie Spice?
Sugar, spice and everything nice; well, that's just NOT what pumpkin spice "flavoring" is made of. According to the Institute of Food Technologists, pumpkin spice flavoring is actually made of a lot of high fructose corn syrup and/or cane sugar — plus synthetic chemicals that mimic the taste of pumpkin pie (including things like cinnamic aldehydes for cinnamon, eugenol for clove or allspice, terpenes such as sabinene for nutmeg, zingiberene for ginger and vanillin and cyclotene for the burnt butter or maple notes).
Pumpkin spice flavored syrup may also contain condensed skim milk, the dangerously unhealthy thickening agent carrageenan and assorted unsavory artificial colors and preservatives. No, not nice at all.
How to Make Pumpkin Pie Spice
For this pumpkin pie spice recipe, I recommend only five to six ingredients, all healthy spices. The ingredients include cinnamon, ginger, nutmeg, allspice, cloves and optionally cardamom, which can add another layer of flavor.
Combine all ingredients well and store in a small glass jar with a tight lid.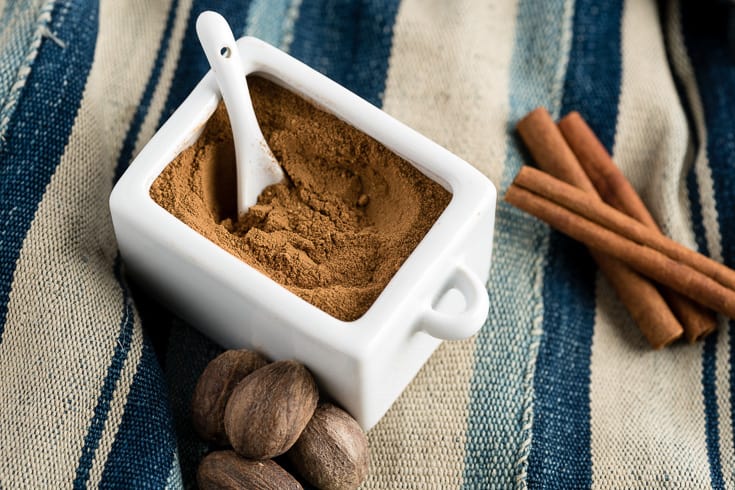 How to Use
Substitute this pumpkin spice recipe for the spices in your favorite pumpkin pie recipe or our pumpkin bar recipe — just add up the measurements for all the individual spices listed in the recipe and add that much pumpkin spice blend.
You can also sprinkle it into your oatmeal for a tasty start to your day, cook down a batch of spicy pumpkin butter (this makes great gifts), and sprinkle on a pumpkin ice cream or pumpkin cheesecake for dessert.
You can also sprinkle this pumpkin pie spice recipe directly into your favorite beverage, but the result will be more like chai than a commercial pumpkin spice flavored latte or other beverage, which is probably as good thing as it's healthier for you.
When you have 10 minutes to spare, you can whip up my favorite good-for-you pumpkin spice latte with coconut milk, maple syrup, pumpkin puree, fresh-brewed coffee and this pumpkin pie spice. Yum!
If you tend to be short of time, however, make a batch of pumpkin spice infused syrup to have on hand for quick latte assembly.
In a small saucepan, combine one tablespoon of this pumpkin pie spice recipe, two tablespoons of pumpkin puree and one cup water. Bring the mixture to a boil, then reduce the heat and simmer it very gently for 10 minutes.
Strain the cooked mixture through a cheesecloth or a coffee filter. Mix the flavored water (you should have about a cup; add a little water if you are short) with one cup of raw honey or maple syrup. Stir until the honey or maple syrup dissolves. Store your finished syrup in a covered glass jar or bottle in the refrigerator for up to a month.
Add a shot of pumpkin spice infused syrup to a mug of half coffee, half plant milk (oat, almond or light coconut milk) for a quick and healthy pumpkin spice latte.
Print
Homemade Pumpkin Pie Spice Recipe
---
Author:

Total Time:

5 minutes

Yield:

3

0

1

x

Diet:

Vegan
Description
Pumpkin pie spice appears in recipes all fall-long, but average concoction can include some less than favorable ingredients. Instead, easily make up your own with this these great six spices.
---
3 tablespoons

ground cinnamon

2 teaspoons

ground ginger

2 teaspoons

ground nutmeg (fresh-grated is especially good)

1½ teaspoons

ground allspice

1½ teaspoons

ground cloves

½ teaspoon

ground cardamom (optional)
---
Instructions
Combine all ingredients in a small bowl and mix well.
Store in a small glass jar with a tight lid.
Prep Time:

5 min

Category:

Sauces & Dressings

Method:

Mixing

Cuisine:

American
Keywords: pumpkin pie spice recipe, pumpkin pie spice ingredients, pumpkin pie spice mix, homemade pumpkin pie spice